Gluten-free, dairy-free and nut-free cookies can be tasty. Just because you can't have certain foods, it doesn't mean you have to miss out on great tasting bakes.
Cookies are an amazing snack or dessert. They're so versatile. You can take them on the go as a snack or with lunch.

We're going to go from bland cookies to flavour filled cookies.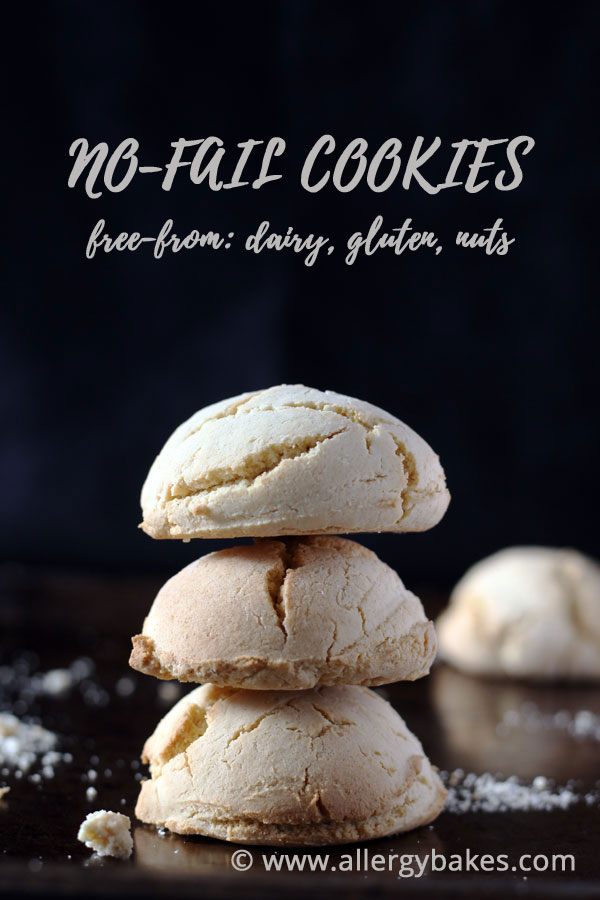 TIPS FOR MAKING GLUTEN-FREE, DAIRY-FREE, NUT-FREE COOKIES
Removing gluten, dairy and nuts from baking can change the results of baked goods. Here are some easy ways to improve your cookie making experience.

Bring all ingredients to room temperature.
Check your ingredients are gluten-free and dairy-free before baking. Ingredients like baking powder can contain gluten.
Check your gluten-free flour blend to see if it contains a binder like xanthan gum, guar gum or flax. If it doesn't, add ¼ tsp xanthan gum to 1 cup of flour.
Weigh your ingredients rather than using cups.
Use baking paper on the bottom of your baking trays. This stops the cookies from sticking. It also makes washing up easier.
If the cookie dough is dry, add 1-2 tbsp of dairy-free milk.
If the cookie dough is too sticky, stick it in the fridge for 30-60 minutes.
Use an ice cream or cookie scoop to create cookies of the same size. If you don't have either, you can use 2 spoons.
Fill a cup ¼ full with gluten-free flour and dip your scoop into it every time you create a scoop of dough. This stops it from sticking.
Take them out a couple of minutes before they look done. They will continue cooking as they cool.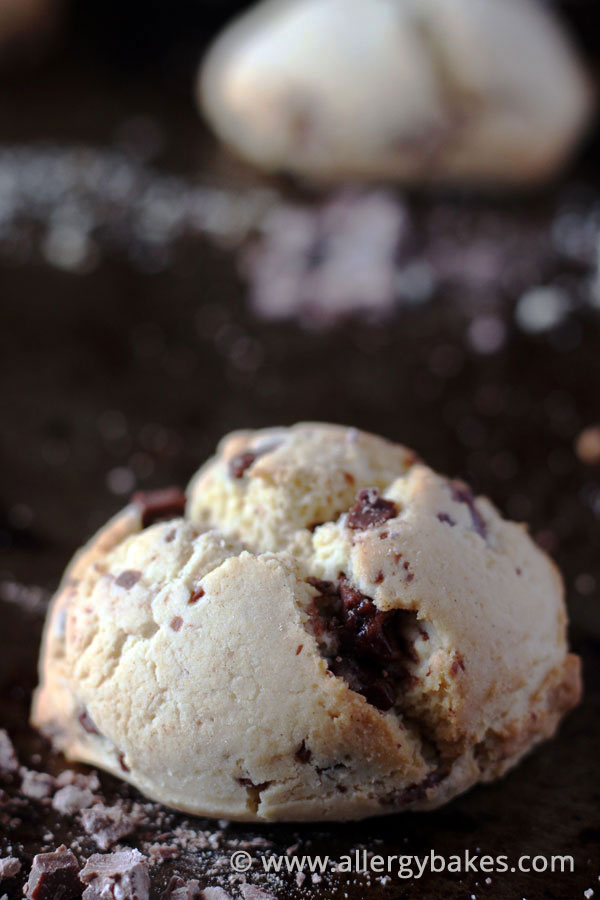 FREEZING GLUTEN-FREE COOKIE DOUGH
Gluten-free cookie dough can be frozen! This means you can pull out the dough and have homemade cookies in no time. Frozen cookie dough can last 3 months in the freezer.

3 BEST COOKIE DOUGH'S TO FREEZE
Cut out cookies e.g. shortbread and sugar cookies
Drop cookies e.g. chocolate chip cookies
Gingerbread
TIPS FOR FREEZING COOKIE DOUGH
For drop cookies, shape them and freeze on a baking tray. Once frozen, transfer to a freezer bag.
For cut out cookies, either shape the dough into a ball and wrap it in baking paper then foil. Or roll out the dough between 2 pieces of baking paper and freeze on a tray.
Add the type of cookie, date you freeze it and how to cook it onto the freezer bag.
BAKING GLUTEN-FREE COOKIES FROM FROZEN
To bake cookies from frozen, preheat the oven, place the cookies on the tray and bake for 1-2 minutes longer than the recipe states.
DEFROSTING COOKIE DOUGH
For shortbread and sugar cookies frozen in a ball, move the dough to the fridge the night before you want to bake them.

OR

Take the cookie dough out the freezer 2-3 hours before you want to bake them. Let them defrost on the worktop side.
COOKIE ADD-INS
There are so many flavour options that you can add into gluten-free cookies.

Candied ginger, chopped
Cinnamon
Confetti sprinkles
Currants
Dairy-free chocolate chips
Dairy-free cocoa powder
Dairy-free custard powder
Dairy-free lemon curd
Dried apples, chopped
Dried blueberries
Dried cherries
Dried peaches, chopped
Dried pineapple, chopped
Freeze dried raspberry pieces
Freeze dried strawberry pieces
Fruit jam
Ginger
Glace cherries, diced
Gluten-free dairy-free mini marshmallows
Gluten-free pretzels
Lemon zest
Lime extract
Lime zest
Nutmeg
Orange extract
Orange zest
Peppermint extract
Raisins
Sea salt
Seeds, pieces or chopped
Shredded coconut
Sunflower seed butter
Vanilla extract or paste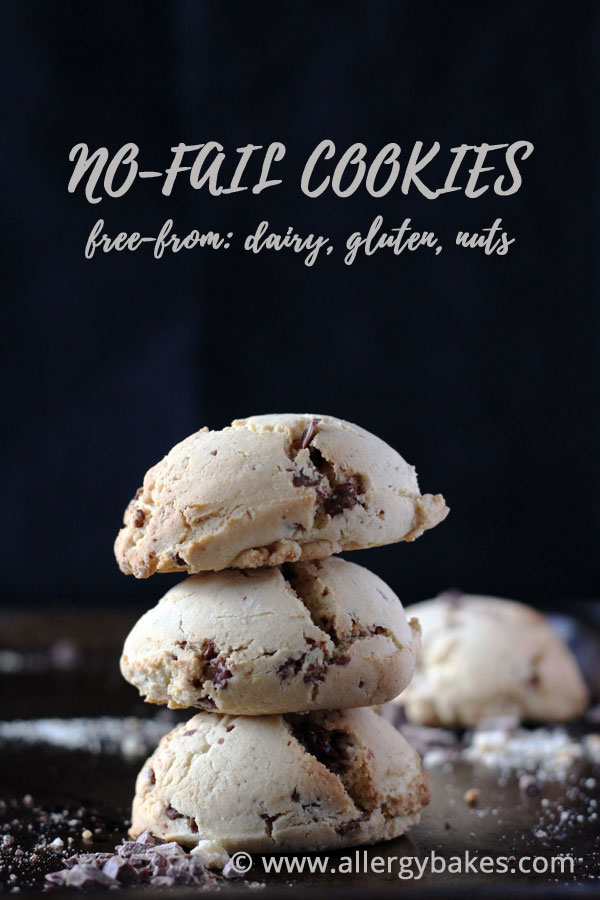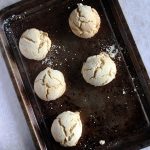 Print Recipe
Gluten-free Dairy-free No-fail Cookies
Gluten-free cookies are delicious. These cookies have so many flavour options that you can choose from.
Ingredients
113

grams

dairy-free margarine

100

grams

sugar

1

egg

1

tsp

vanilla extract

340

grams

gluten-free self-raising flour

1/2

tsp

gluten-free baking powder

1/4

tsp

salt

1-2

tbsp

rice milk
Instructions
Preheat the oven to 180°C and line 2 baking trays with baking paper.

Beat the dairy-free margarine and sugar together until combined and looks pale and like buttercream. Approximately 2 minutes.

Add the egg and vanilla. Beat until combined; it will be a runny consistency and the mix will look slightly separated.

Mix in the gluten-free flour, baking powder, and salt until combined. It should be pulling away from the bowl when you stir the dough.

Add the rice milk and stir.

Add in flavours here. See notes.

Scoop it out onto the trays using 2 spoons or ice cream or cookie scoop.

Bake for 12-14 minutes, rotating the trays ½ way through the cooking time.

Store in an airtight container for 2-3 days.
Notes
You can use other dairy-free milks, like coconut or soya milk.
I haven't tried it with an egg substitute but if you do, share it in the comments as I'd love to know how it turned out.
Chocolate Chip:
add 16-20 g dairy-free chocolate chips at step 5.
Custard:
reduce the gluten-free flour to 256 g (1 ½ cups) and add 84 g (½ cup) dairy-free custard powder at step 4.
Cinnamon:
add 1 tsp ground cinnamon at step 4.
Lemon:
add the zest of 1 lemon at step 3.
Jam:
when the cookies are on the tray, press your thumb into them to create a dent. Add ½-1 tsp of your favourite jam into the dent.
What are your favourite cookies? What flavours do you enjoy?